Welcome to the platform of wisdom!
Takahiro Eguchi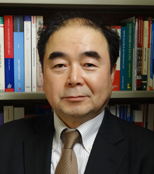 Today, the world is undergoing great change. Populism and nationalism are gaining power in advanced nations. The values and world order built mainly by Western countries after World War Ⅱ are beginning to waver. Furthermore, our work and daily lives will be effected even more by these changes in globalization and informatization.
The problem is that no one knows what lies beyond these changes. Not like before, there is no guarantee that things will turn out as predicted by prominent politicians or renowned scholars. The reason for this uncertainty is that actual changes are caused by complex collisions of forces at the intersection of an unprecedented variety of ideas and information.
So, what should be done? There is nothing for us to depend on and we must make decisions by ourselves. Still, making our own decisions is not so easy. There are countless variables which you must understand before making a decision. For example, what is the core of the problem at hand? What kinds of ideas exist in the background? What is the extent of the problem? In rapidly changing society , it becomes more essential to continue these intellectual activities. Of course, intellectual activities are sometimes performed single-handedly. However, utilizing the knowledge and experience of experts makes it possible to acquire required knowledge with even greater efficiency.
Graduate schools are institutions which support these continual intellectual activities. The Graduate School of Law at Kanagawa University possesses expert staff in a variety of fields ranging from traditional legal fields such as constitutional law, administrative law, criminal law, civil law, and commercial law to political science, legal philosophy, and other academic fields which focus on global trends. Our expert staff cooperates to support your intellectual activities from various perspectives.
In order to ensure the continuance of intellectual activities, the doors of our graduate school are open to everyone. We welcome anyone who will take the initiative to learn and think, whateverf the motivation for their intellectual activities is. Students of our graduate school include those who desire to engage in further study after graduating from university, those who want to objectify their social experiences through the filter of academics, those who wish to consider the declining birthrate, aging population, and other issues faced by Japanese society, and those who want to study new legal fields in order to obtain some certification.
I encourage you to stand on the intellectual platform provided by the Kanagawa University Graduate School of Law and take flight into the world of intellectual activities!